Womens Workout Clothing in Peoria IL
Find Womens Workout Clothing in Peoria IL at Blue Boutique
Working out is a great way to stay healthy and fit. Why not look good while you're at it? Blue Boutique should be your first destination for womens workout clothing in Peoria IL. From capris and yoga pants to sports bras and hoodies, we have all the quality goods for the mindful soul that you could need. We have the complete look you're going for, whether you want to look good for yoga class, Pilates in the park, jogging around the neighborhood or hitting the gym. Our creations are eclectic, unique, and inspiring, so come find out why we are the best boutique for fitness clothing in your community.
Womens Workout Clothing We Sell
Owned by Krista Piper, who opened Blue Boutique in honor of her grandmother Julia Louise Bedinger, our goal is to inspire. We want to inspire you to have the best, most fashionable workout possible so that you look and feel amazing. We want you to leave not only with quality workout gear but a full heart. Our boutique is proud to bring you the best brand names so you can feel fabulous inside and out.
Here's a look at the womens workout clothing we sell:
Muscle tanks
Tanks
Capris
Yoga pants
Crop tops
Sports bras
Cardigans
Jackets
Hoodies
¼ zip
Joggers
Crop leggings
Ankle leggings
Strappy tops
Vintage tops
Dresses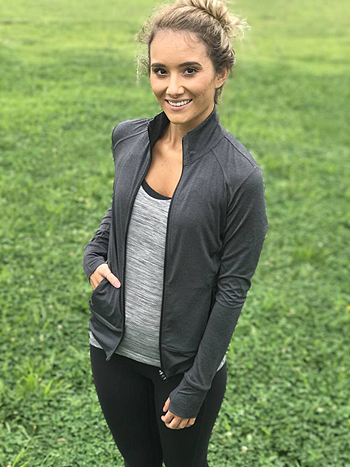 Whether you're headed out for a round of golf, tennis match, or yoga class, Blue Boutique will get you there in style. From new arrivals to tried-and-true classics, we invite you to browse our online gallery or stop in and see our products.
Contact Us For Womens Workout Clothing in Peoria IL
To outfit yourself for your workouts, come visit Blue Boutique to see our vast selection of fitness clothing. Private shopping is available by appointment. Give us a call at 309-693-1300 or email us at contactblue@yahoo.com.